About Something Pretty, Something Beautiful
Paperback: 262 pages
Publisher: Outpost19 (June 1, 2013)
In Tacoma, a circle of friends finds their leader in Will Wilson. Together, they drink, they get high, they take girls to the woods — but Will Wilson keeps pushing toward darker extremes.
As the descent gets steeper, there is a way out: Another friend's fishing boat off the coast of Alaska. There is life after Tacoma.
But the choice has to be made. And some friendships feel more than inevitable.
Something Pretty, Something Beautiful is a novel about bare and common violence. About the simple horrors taking place in the house that's down the street. The house along the road you drive past every day.
It's about cars moving fast along streets lit white and gray. It's about the crashing screams of a rollercoaster echoing out from the county fair.
Yet Something Pretty, Something Beautiful is also about quiet days in a small boat out on Puget Sound. Quiet days working hard in a fish plant in Alaska.
And it's about the sadness of how to make those lives finally connect.
Review
The title suggests a light and fluffy read, but this book is anything but. It's a very gritty look at the dark side of temptation and how slow a decline can be.
Several childhood friends start down a path of destruction, at first just playing at pranks and teasing young girls. With each page, these boys take another step into a very dangerous game.

Told through the eyes of Brian Porter, the book moves in and out of these spiraling events. Brian's voice is equal parts questioning and succumbing. He knows so much of what they are doing is wrong, but he can't find the will or good reasons to stop any of it... even to stop himself. The ringleader, Will Wilson, is compelling. All those around him can't seem to resist his charms, even as every warning bell possible is going off in their gut.

The author's style takes a little getting used to. One, the story is not told linearly. Two, with each page there is the hint of something more sinister--a slow build to the inevitably unsettling ending. It's often unsettling, with little to no relief for the reader. Not that intensity is a bad thing.

If you are looking for a light summer read, this is not it. At times disturbing, this novel showcases how quickly a simple childhood prank can turn into something much darker. For anyone who has ever wondered why people fall prey to situations like this, pick up a copy of Something Pretty, Something Beautiful. It's a well-crafted character study. Think of it more as something tempting, something sinister.

Rating: 4 stars
About Eric Barnes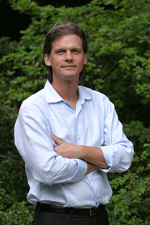 Eric Barnes is the writer of the novels Something Pretty, Something Beautiful, from
Outpost19
, called "the most harrowing portrait of American boys careening into manhood that I've ever read, by the writer Benjamin Whitmer. He is also the writer of the novel Shimmer, an IndieNext pick from
Unbridled Books
that reviewers likened to the work of Don Delillo, David Foster-Wallace, and William Gibson. Eric has published numerous
short stories
in Prairie Schooner, The Literary Review, Best American Mystery Stories, and other
publications
.
He is the publisher of
The Daily News
,
The Memphis News
and
The Nashville Ledger
, local publications covering business and politics in Memphis and Nashville. He is also host of
Behind the Headlines
on WKNO.
Eric was once COO (and, before that, Publisher and Managing Editor) of Towery Publishing, a publisher of city guides, books, maps, city sites and business directories for cities around the country. Towery went under in 2003, a sad and endless and unforgettable experience that culminated in the purchase of a few cases of beer for the remaining staff at one final staff meeting at Union and Mclean.
Prior to that, Eric was managing editor of a business magazine in New York City, was a reporter in small-town Connecticut, worked construction on Puget Sound and drove a forklift in Kenai, Alaska.
Eric lives in Memphis. Previously he lived in New York, and before that in New London, Connecticut. He grew up in Tacoma, Washington, and Juneau, Alaska. He attended the
Columbia University School of the Arts
,
Connecticut College
, and
Woodrow Wilson High School
.
Eric is the father of Reed, Mackenzie, Andrew and Lucy, and husband to Elizabeth, a wonderful person and incredible teacher at
Memphis University School
.
Find out more about Eric at his
website
and follow him on
Twitter
.
Note: I received a complimentary copy for review purposes. A positive review was not requested or guaranteed; the opinions expressed are my own.
Please visit other stops on the Something Pretty, Something Beautiful blog tour page.