About Forbidden: The World of Nightwalkers

Series: The World of Nightwalkers
Mass Market Paperback: 352 pages
Publisher: Ballantine Books (October 30, 2012)
From New York Times bestselling author Jacquelyn Frank comes this first book in The World of the Nightwalkers—an exciting and sensual new spin-off series in which the Bodywalkers, an ancient race of the night, battles the evil forces who prey on them.
The unexpected happens in an instant. On her way to work, secretary Docia Waverley hurtles into a crashing crossroads, and she quickly begins to suspect that things will never be the same. Then, when a tall, blond, muscular stranger intervenes on her behalf, telling her it is his duty to protect her at all cost, what is just a feeling turns to proof positive. That is, as long as Docia's savior doesn't turn out to be a crazed kidnapper.
When Ram finds Docia, he has no doubt that she is his queen. But as this golden warrior sweeps in to protect her, he feels something more than body heat every time they touch. He is overwhelmed by a searing connection that goes deep into the twin souls inside him. A desire rises in him that is forbidden—this woman is his queen, the mate of his king, his leader, his best friend. And yet Docia is so vulnerable and attractive that she awakens a hunger in Ram that is undeniable, a carnal craving he cannot yield to . . . not without risking the very survival of the Bodywalkers.
Review
In an instant, Docia's life changes forever. She faces an ending, but she has a choice. Through her whole life, she's had two men looking after her: big brother, Jackson, and their friend (who they love like family), Leo. Now, her life is in the hands of Ram--an entity known as a Bodywalker.
He's waiting for his queen and is a longtime friend and protector of his king. He suspects Docia is his resurrected queen, but Docia unleashes a desire in him he's never known. One that he can't allow.
Although I will give my thoughts on this series as a whole (at least these first three books) below, I also wanted to share some quick thoughts about each book. In Forbidden, we learn about the Bodywalkers and other breeds of Nightwalkers. But, the reader is also treated to an intense heat between Docia, a woman trying to accept another soul, and Ram, a man sworn to protect his queen and king but facing feelings he has never experienced. I found myself pulled deeply into the story and intrigued by this new world of paranormal creatures--as completely enthralled with what made them human as with what made them not of this world.
Rating: 4.5 stars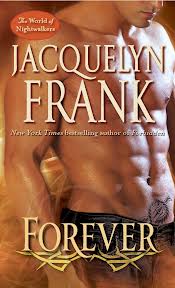 About Forever: The World of Nightwalkers
Series: The World of Nightwalkers
Mass Market Paperback: 352 pages
Publisher: Ballantine Books (May 28, 2013)
New York Times bestselling author Jacquelyn Frank returns with the sizzling second book in her sensual new series set in the World of the Nightwalkers—where alluring entities known as Bodywalkers face the ultimate threat.
After being brought back from death, police officer Jackson Waverly receives the shock of his life: he has become host to a Bodywalker, a spirit that is reborn in flesh and blood, and part of a proud, ancient race that uses its extraordinary gifts to battle dark, evil forces. Jackson's spirit is a powerful one—none other than the Egyptian pharaoh Menes, who longs to reunite with his eternal love, the Egyptian queen Hatshepsut.
While Menes is obsessed with finding the perfect vessel for his queen, Jackson cannot stop thinking about Dr. Marissa Anderson, the gorgeous precinct shrink who keeps pushing him to confront his grief over the loss of his K-9 partner. But what Marissa really arouses most in Jackson is intense desire, which is exactly what Menes is looking for. To fight a great enemy, pharaoh and queen must join; but to host Hatshepsut, Marissa will first have to die. Fate has given Jackson a profound choice: save Marissa from Menes's plan or keep an entire species from the brink of extinction.
Review
Jackson's life as a cop has prepared him to face evils, but he now faces a new world as a Bodywalker. Like his sister, Docia, he is given a choice and comes back from death sharing his body with the Egyptian pharaoh, Menes.
Menes needs to bring his queen back, and Jackson realizes he is falling for Marissa, his former shrink. But for her to be queen, and a love the two men would share, she'd have to die and accept the same offer Jackson did. Can he do that to her?
Forbidden so detailed the fated love of Menes and his queen, Hatshepsut, that I was greatly looking forward to their story. As it turns out, this book was as much about Jackson's love for Marissa. In addition, we find out more about the race of Bodywalkers and who they are at war with and why. All intriguing, but I wanted more from this great love--one that had endured the ages. So at times, the back-and-forth between Marissa and Jackson only seemed to stand in the way.
Rating: 4 stars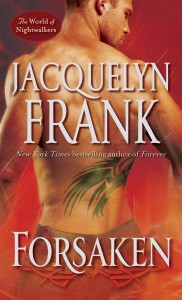 About Forsaken: The World of Nightwalkers
Series: The World of Nightwalkers
Mass Market Paperback: 368 pages
Publisher: Ballantine Books (January 7, 2014)
New York Times bestselling author Jacquelyn Frank continues her scorching and sensual new series set in the world of the Nightwalkers, where alluring entities known as Bodywalkers are the vanguards against the raging forces of darkness.
As a mercenary, Leo Alvarez has signed on for a lot—but he never signed on for his best friend becoming host to the soul of an ancient Egyptian pharaoh. Jackson is now inhabited by a Bodywalker, and Leo is forced to grapple with a realm of supernatural beings far more dangerous than anything he's ever encountered.
But when Jackson is wounded by an attack from a demon god, Leo must team up with another supernatural creature—a Night Angel—to save his friend from utter destruction. With skin as black as midnight, hair as white as snow, and a body of pure perfection, the Night Angel arouses a burning desire in Leo, even as he refuses to be intimidated by her power—or the power of those who would destroy his friend. An unusual alliance is forged, electrified by sexual temptation, and together the two must unite their strengths to bring down a supreme evil.
Review
Leo has seen his only real family changed in ways he doesn't know if he can accept; Docia and Jackson are both now Bodywalkers. Still, Leo can't stand to see either of them hurt. Even though he's endured a brutal attack, he rushes in to save Jackson and a fate Leo doesn't quite grasp. A Night Angel offers to help, and the two set off on a dangerous and complicated journey.
Can Leo get past his misgivings of these non-humans? Can he and the Night Angel work together to save their king and ultimately the world?
Loved this third book. It not only continued with the lore of the Bodywalkers, introducing new creatures and characters, it also featured one of the hottest romances and stories. The Night Angel, Faith, was an interesting character. Plus, I loved that Leo is a human struggling to accept an insane amount of new information. He and Faith face many challenges, but they grow the most as a couple and as characters.
Rating: 5 stars
My Thoughts on the Series
A great adult paranormal series--equally successful in its romantic and paranormal endeavors. Too often, I find adult paranormal romance is romance-heavy and paranormal-light. Not so with this series. The paranormal creatures are unique and their stories and backgrounds are intricately laid out. Yet, the romance adds to the story instead of becoming the sole focus. A nice blend. It's fast-paced, a constant page turner, but there are plenty of moments for character development and couple building. I loved so many characters, I couldn't decide which one I wanted to know more about next.
That being said, it definitely reads better as a series. If I would have picked up book three, Forsaken, by itself, I think I would have missed out on a lot of what made me love it. Each book built on the one before it. The good news: this means you can add the whole series to your to-be-read pile. Now, I need to look into some other titles by this prolific author.
About Jacquelyn Frank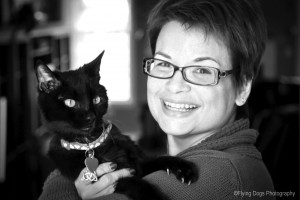 Jacquelyn Frank is the New York Times bestselling author of the World of Nightwalkers series (Forbidden, Forever, and Forsaken), the Three Worlds series (Seduce Me in Dreams and Seduce Me in Flames), the Nightwalkers series (Adam, Jacob, Gideon, Elijah, Damien, and Noah), the Shadowdwellers novels (Ecstasy, Rapture, and Pleasure), and the Gatherers novels (Hunting Julian and Stealing Katherine). She lives in North Carolina and has been writing romantic fiction ever since she picked up her first teen romance at age thirteen.
Learn more about Jacquelyn at her website, jacquelynfrank.com, on Facebook, or on Twitter.
Thanks to TLC for my review copy.

Note: I received a complimentary copy for review purposes. A positive review was not requested or guaranteed; the opinions expressed are my own.

Please visit other stops on The World of Nightwalker Series blog tour page.