About Big Girl Panties
Paperback: 368 pages
Publisher: William Morrow Paperbacks
Reprint edition (January 21, 2014)
Holly didn't expect to be a widow at thirty-two. She also didn't expect to be so big. After her husband's death, food was the one thing she could always count on. Then she meets Logan Montgomery, a personal trainer so hot that he makes her sweat in all the right (and so embarrassingly wrong!) places. Charmed by her witty wisecracks and sharp insights, he impulsively offers to help get her back in shape.
To Logan's (and her own) surprise, Holly turns out to be a natural in the gym, slimming down into a bona fide looker with killer curves—and a new kind of hunger. Before either of them can stop it, the easy intimacy of their training sessions leads to even more steamy workouts away from the gym.
But can a man whose whole life depends on looks commit himself to a woman who doesn't fit his ideal? Now that Holly's turning other men's heads, does she even need Logan anymore? Are they a couple built to last . . . or destined to fizzle?
Review
When Holly's husband died, she turned to food as an escape and quickly lost herself in it. Then she runs into Logan Montgomery, a personal trainer who offers her a change. Little did he know she would change him, too.
Holly throws herself into Logan's routines and the two spend more and more time together. As they do, the bond between them grows. But can Logan look past "his type"? Can Holly believe she's good enough?
Charm and wit abound in this book. Holly is a likable character, both because she is funny and honest. She showcases the insecurity so many of us have in relationships, although hers is about her weight. And Logan could have easily become a cliche--a man fighting his ideal view of a woman--but thanks to his close friend, Chase, we see sides of Logan that counteract the surface. After all, the heart of this story is overcoming surface judgements.
In addition, the characters are believable and likeable. Chase and his wife, Amanda, deserve their own story (which I was glad to see they are getting in the author's next book). But here they serve as friends and catalysts for change. They are entertaining, believable, and sexy. Most importantly, they increase the same qualities in Holly and Logan.
I laughed out loud several times, and I sniffled when Holly doubted herself. Who hasn't struggled with insecurity in some form? One of the sweetest moments comes courtesy of Holly's longtime friend, Tina, when she sees something in Logan that Holly, and the reader, hadn't fully realized before.
Big Girl Panties is a fast-read full of witty punches, sexy romance, raw emotion, and great characters. I highly recommend it. A home run!
Review: 5 stars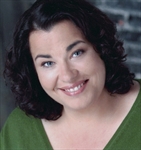 About Stephanie Evanovich
Stephanie Evanovich is a full-fledged Jersey girl who attended New York Conservatory for the Dramatic Arts, performed with several improvisational troupes, and acted in a few small-budget movies, all in preparation for the greatest job she ever had: raising her two sons. Now a full-time writer, she's an avid sports fan who holds a black belt in tae kwon do.
Connect with Stephanie on Facebook.
Thanks to TLC for my review copy.

Note: I received a complimentary copy for review purposes. A positive review was not requested or guaranteed; the opinions expressed are my own.

Please visit other stops on the Big Girl Panties blog tour page.