About The Virtues of Oxygen
Paperback: 242 pages
Publisher: Lake Union Publishing (July 22, 2014)

From the award-winning author of A Watershed Year comes a heartrending story of unlikely bonds made under dire straits. Holly is a young widow with two kids living in a ramshackle house in the same small town where she grew up wealthy. Now barely able to make ends meet editing the town's struggling newspaper, she manages to stay afloat with help from her family. Then her mother suffers a stroke, and Holly's world begins to completely fall apart.
Vivian has lived an extraordinary life, despite the fact that she has been confined to an iron lung since contracting polio as a child. Her condition means she requires constant monitoring, and the close-knit community joins together to give her care and help keep her alive. As their town buckles under the weight of the Great Recession, Holly and Vivian, two very different women both touched by pain, forge an unlikely alliance that may just offer each an unexpected salvation.

Purchase Links
Review
For Vivian, thanks to contracting polio at a young age, every breath is a difficulty. Loss and struggling have been major parts of Holly's life, and she's doing all she can to not lose everything. Their lives intersect when Holly takes a job as one of Vivian's caretakers.
Day to day, Vivian isn't sure she wants to continue even as Holly fights to stay afloat. Both characters embody strength and determination and will quickly find a space in your heart. Thanks to the alternating points of view, I felt a quick and intimate connection with each of them but especially to Vivian. Her flashbacks and soul-bearing drew me in. At one point, as she desperately struggles for air, I found myself holding my breath. Actually, there were several times I had emotional and physical reactions while reading.
The Virtues of Oxygen is a simple story told with rich emotion; the power lies in its subtlety and honesty. I wanted to know these women, to learn from them how to make the most of any situation. It's a great reminder not to take for granted the blessings of life, even down to the air we breathe.
For readers who appreciate an emotional connection to characters and the beauty of a powerful story, look no further.
Rating: 5 stars


About the Author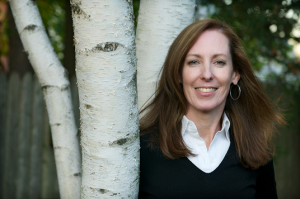 Susan Schoenberger is the author of the award-winning debut novel A Watershed Year. Before turning her attention to writing fiction, she worked as a journalist and copyeditor for many years, most recently at The Hartford Courant and The Baltimore Sun. She currently serves as the director of communications at Hartford Seminary and teaches writing classes at the Mark Twain House in Hartford. She lives in West Hartford, Connecticut, with her husband and three children.