About The Bully of Order
•
Hardcover:
400 pages
• Publisher: Harper (September 2, 2014)
Washington Territory, 1886
Jacob and Nell Ellstrom step from ship to shore and are struck dumb by the sight of their new home—the Harbor, a ragged township of mud streets and windowless shacks. In the years to come this will be known as one of the busiest and most dangerous ports in the world, and with Jacob's station as the only town physician, prosperity and respect soon rain down on the Ellstroms. Then their son, Duncan, is born, and these are grand days, busy and full of growth. But when a new physician arrives, Jacob is revealed as an impostor, a fraud, and he flees, leaving his wife and son to fend for themselves.
Years later, on a fated Fourth of July picnic, Duncan Ellstrom falls in love. Her name is Teresa Boyerton, and her father owns the largest sawmill in the Harbor. Their relationship is forbidden by class and by circumstance, because without Jacob there to guide him, Duncan has gone to work for Hank Bellhouse, the local crime boss. Now, if Duncan wants to be with Teresa, he must face not only his past, but the realities of a dark and violent world and his place within it.
Told from various points of view, Brian Hart's novel follows the evolution of the Harbor from a mudstamp outpost to a city that rivals the promise of San Francisco. The Bully of Order is a meditation on progress, love, and identity; a spellbinding novel of fate and redemption—told with a muscular lyricism and filled with a cast of characters Shakespearean in scope—where everyone is as much at the mercy of the weather as they are of the times.
Praise for The Bully of Order
"Hart's sense of place is brilliant…There are dazzling characterizations…[and] a dense, deep and illuminating narrative…of greed and ambition and of fathers and sons…Think the brutal realities of McCarthy's Blood Meridian set among the primeval forests of the Pacific Northwest frontier." —Kirkus Reviews (starred review)
"An epic novel of violence, depravity, and mayhem…Brian Hart writes like Cormac McCarthy in overdrive. What talent, what nerve, what a wondrous and spellbinding book. The Bully of Order is part creation myth, part apocalyptic thriller, and it's peopled with charlatans, swindlers, and murderers who will haunt your dreams." —John Dufresne, author of No Regrets, Coyote

Review
Jacob Ellstrom had made a respectable life for himself--and his wife, Nell, and son, Duncan--as the town doctor. Unfortunately, when a new doctor comes to town, Jacob is revealed as a fraud. Lost, he takes took off and Nell is left to pick up the pieces.
With few options, Nell does the best she can for herself and her son. After a traumatic event, she is forced to make a drastic decision; this leaves both Jacob, when he returns, and Duncan floundering. Ultimately, it seems nobody can escape the perils of the time and the disappointments of the heart.
First, I must commend the author on a beautifully written and engaging story full of memorable characters. Since it's told from several characters' points of views, the reader gets many perspectives on what's happening. Unfortunately, my favorite character, Nell, wasn't as present as I would've liked and there were a few point of view switches that were too abrupt. The crux of the story is Jacob, Nell, and Duncan, and I wish the focus would've never left them.
That being said, the imagery of the times and the location is amazing. I felt pulled into the time period and world the author created. Plus, the story never lacked for emotional power--there was nothing easy for this family or the people around them. It's gritty, real, and powerful.
Although I wanted a satisfying ending, one of hope and fulfillment, it wouldn't have worked here. Instead, the author leaves the reader with the ability to come to their own conclusion.
Readers who appreciate memorable characters, gritty story, beautiful language, and historical fiction will want to add The Bully of Order to their to-be-read pile.
About the Author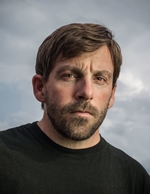 A native of Idaho, Brian Hart won the Keene Prize for Literature from the University of Texas at Austin and received an MFA from the Michener Center for Writers there. He is the author of the novel Then Came the Evening. He lives in Austin, Texas, with his wife and young daughter.
Connect with Brian through his website.
Note: I received a complimentary copy for review purposes. A positive review was not requested or guaranteed; the opinions expressed are my own.

Please visit other stops on The Bully of Order blog tour page.