About Beyond Coincidence
Publisher: Escape Publishing – Harlequin Enterprises, Australia Pty Ltd (Sept 1, 2014)
ebook, 220 pages
Beyond Coincidence:
Mixing romance, history, and a touch of the unexplained comes a new novel from Jacquie Underdown about love that needs to cross oceans and time before finding a place to come true.
In 2008, 250 Australian and British soldiers are uncovered in a mass grave in Fromelles, France, lost since the Great War. One soldier, bearing the wounds of war so deep it has scarred his soul, cannot be laid to rest just yet.
When Lucy bumps into the achingly sad soldier during a trip to France, she doesn't, at first glance, realise what he is – a ghost who desperately needs her help. Lucy can't turn away from someone who needs her, even someone non-corporeal, and they travel back together to Australia in search of answers and, hopefully, some peace.
This chance meeting and unexplainable relationship sets into motion a chain-reaction of delicate coincidences that affect the intertwined lives of family, friends, and lovers in unexpected, beautiful ways.
Previous praise for Jacquie Underdown:
'Underdown offers interesting coincidences and unexplained end rather realistic and tender. The romantic in me appreciated that love is stronger than anything!'— New Books On My Shelves on Beautiful Illusion
'Underdown has penned an enchanting, fantastic tale of a love that shouldn't exist but somehow does.' — Penny Dreadful on Beautiful Illusion
'This novel's message of humanity's need for compassion, connection and togetherness will resonate with those travellers and seekers amongst us who have explored the world and come home forever changed… There is passion and lust, a blossoming relationship, and obstacles to overcome.'— Healing Scribe on The Paler Shade of Autumn

Purchase Links
Review
Lucy has run to France to try and heal a broken heart. There she meets a man (Freddy) looking for his, but there's one problem... he's been dead over a hundred years. Together, they go on a journey to put his soul to rest.
To help Freddy, they must find his next of kin. Nate isn't interested at first, but Lucy convinces him to give it a go. Along the journey, they fall for each other. Will they find happiness and can they lay Freddy to rest?
I loved this charming love story. Lucy is tender-hearted, yet strong. Seeing her connect to Freddy made her ultimate love for Nate even sweeter. For a quick read, it's packed with emotional depth and interesting story. In addition to finding out Freddy's background, the couple has their own interesting path to discover--big life changes for both of them.
*** added after original posting ***
The more I thought about this book, and after posting the review, the more I loved the idea that life is a lot about simply being open to the possibilities. Lucy doesn't walk away when a ghost asks for help or when her first encounter with Nate is a huge turnoff. She doesn't make rash judgments, and her heart is ready to accept love even when pain is a short-term consequence.
She's a character that will stay with me, and I look forward to reading more books by this author.
If you love to emotionally connect to a story and fall in love with the characters, definitely pick this one up. A real winner.
Rating: 5 stars
About the Author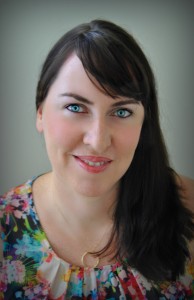 Jacquie resides in hot and steamy Central Queensland, Australia, with her husband and two sons. On permanent hiatus from a profession she doesn't love, she now spends her time wrapped up in her imagination creating characters and exploring alternative realities.
Jacquie is an author of a number of novels, novellas and short stories that are emotionally driven and possess unique themes beyond the constraints of the physical universe. She strives to offer romance, but with complexity; spirituality, without the religion; and love, with a tantalising splash of spice.
Her novels express a purpose and offer subtle messages about life, the spirit and, of course, love.
Connect with Jacquie