About Proof of Angels
• Paperback: 320 pages
• Publisher: William Morrow Paperbacks; Original edition (November 4, 2014)
From the critically acclaimed author of Proof of Heaven comes an unforgettable tale that asks the question "Are there angels among us?"
Sean Magee is a firefighter—a hero who risks his own life to save others, running into dangerous situations few have the courage to dare. While fighting a horrific blaze, Sean becomes trapped by flames and is nearly overcome by smoke. Just when it seems that all is lost, he's led to a window, by what he swears is divine intervention. And then he jumps . . .
. . . into a new life. For years, Sean has shut down his feelings, existing in a state of emotional numbness. Coming through that fire, he knows he can no longer be that man whose heart is closed to the world. But before he can face his future, he must confront his past and everyone in it: the family, the friends, the woman—and the love—he carelessly left behind.

Review
Sean Magee survives a near-death experience thanks to an angel's guidance. After, he's determined to right the wrongs of his past and overcome his demons and drug and alcohol abuse.
To fix his future he must face his past and the people he hurt along the way, especially a former love. Can a broken man find his way to healing?
There are so many moments in this book that hit me in the gut. We've all made promises to be a better person (e.g., just let me live through this pain, and I'll make changes) after a painful event; Sean actually follows through. Horrible injuries--he's a firefighter who had to just life by jumping three stories from an exploding building--create a man who recognizes he's broken and the only way to heal is to seek out those who suffered because of it.
I loved his journey, especially his dealings with friends and his sister--her pain was a very touching part of Sean's past pains. I wished more had been done with the angel story line and how angels affect us all, and I thought the reunion with his past love--a driving force of the story--was rushed in the end. I wanted to savor more Sean's incredible journey and renewed belief in something bigger than himself.
Overall, I recommend this book. It's a heartwarming, and heartbreaking, journey of a man. One that reminds us there really are angels out there.
Rating: 4 stars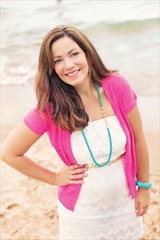 About Mary Curran Hackett
Mary Curran Hackett lives with her husband and children in Cincinnati, Ohio.
Find out more about Mary on her website, like her onFacebook, and connect with her on Twitter.
Note: I received a complimentary copy for review purposes. A positive review was not requested or guaranteed; the opinions expressed are my own.

Please visit other stops on the

Proof of Angels blog tour page.