About The Tell-Tale Heart
Paperback: 256 pages
Publisher: Harper Perennial (February 10, 2015)
After years of excessive drink and sex, Patrick has suffered a massive heart attack. Although he's only fifty, he's got just months to live. But a tragic accident involving a teenager and a motorcycle gives the university professor a second chance. He receives the boy's heart in a transplant, and by this miracle of science, two strangers are forever linked.
Though Patrick's body accepts his new heart, his old life seems to reject him. Bored by the things that once enticed him, he begins to look for meaning in his experience. Discovering that his donor was a local boy named Drew Beamish, he becomes intensely curious about Drew's life and the influences that shaped him—from the eighteenth-century ancestor involved in a labor riot to the bleak beauty of the Cambridgeshire countryside in which he was raised. Patrick longs to know the story of this heart that is now his own.
In this intriguing and deeply absorbing story, Jill Dawson weaves together the lives and loves of three vibrant characters connected by fate to explore questions of life after death, the nature of the soul, the unseen forces that connect us, and the symbolic power of the heart.


Purchase Links
Review

Two souls are connected by Fate and ultimately by one beating heart. Patrick is an older man who has lived his life with little regard for the feelings of others. Drew is a young man who followed his heart, even when it led him into precarious situations. When Patrick is near death, Drew's untimely passing provides the man with another chance.
Although this story would've been compelling just from Patrick's point of view, it reaches a whole new level by including Drew's. I'm focusing on these two because the third, to me, wasn't as powerful (although it was short). Thanks to beautiful writing, emotional depth, and expressed flaws, I became swept up in the story.
It's been a while since I felt so connected to a story, especially one where the main characters are quite flawed and often unapologetic about it. It's easier to accept Drew's mistakes because of youth, but Patrick knows darn well, or should, that his choices are suspect at best. Yet, I found myself liking him as a character, especially as he began to see how his actions affected others.
This is a real human story, without bright lights or fancy images. It stirs up emotions and judgments while also promising hope and beauty. In particular, I cried when Drew explained the reason he decided to sign a donor card in the first place.
An amazing read, one full of heart and emotion. There's a simple beauty about it, and I was thinking about it long after I finished it. My favorite book this year!
Rating: 4.5 stars
About the Author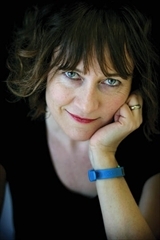 Jill Dawson is the author of Trick of the Light, Magpie,Fred and Edie, which was short-listed for the Whitbread Novel Award and the Orange Prize, Wild Boy, Watch Me Disappear, which was long-listed for the Orange Prize,The Great Lover, and Lucky Bunny. She has edited six anthologies of short stories and poetry, and has written for numerous UK publications, including The Guardian,The Times, Vogue, and Harper's Bazaar. She lives in Norfolk with her husband and two sons.
Find out more about Jill at her website and follow her on Twitter.
Note: I received a complimentary copy for review purposes. A positive review was not requested or guaranteed; the opinions expressed are my own.

Please visit other stops on the The Tell-Tale Heart

blog tour page

.