About The Camelot Kids
What happens when Merlin tries to save the world with 150 teenage descendants of The Knights of the Round Table?
In The Camelot Kids, Ben Zackheim, author of the bestselling Shirley Link series, tells the exhilarating story of Merlin's quest to save the modern world by recruiting 150 teenage descendants of The Knights of the Round Table. Getting 150 teenagers to do anything can be tough. Even if you know how to handle them. Merlin has no idea how to handle them.
Luckily, Merlin finds Simon Sharp — a natural leader, but not a big fan of the Camelot myth. In fact, his parents, both obsessed with King Arthur, died in a plane crash on their way to an archaeological dig. So when Merlin tells him that he's a descendant of Lancelot, King Arthur's strongest warrior, Simon is skeptical and not receptive in the least. And that's just the beginning of a story that will leave readers thrilled, wanting more and entirely convinced of the brilliance of Simon Sharp.
In the same way that magic is the code that holds Harry Potter's world together, chivalry is the code, the foundation and the social dynamic of The Camelot Kids. Chivalry is, in a sense, real-life magic, and it is the real-life code Simon and the other teenagers learn to live by.

Review
What a fun, entertaining read!
Simon is a descendant of Sir Lancelot, but he's just lost his parents and not ready for Merlin to recruit him to a teenage New Camelot. Yet, he's pulled in and the adventure begins.
Late elementary and early middle school students, in particular, will enjoy these characters and adventures. It reminded me of Percy Jackson and the Rick Riordan series. Plus, the illustrations inside the book were amazing and reminiscent of Harry Potter illustrations.
Although it's quite long (just over 500 pages), I felt engaged and interested. It never felt burdensome or too long. Plus, the words on the page are bigger than most books. In addition, I plan to read it to with my fourth grader, who I think will really enjoy it.
Oh, and I loved that there were equally memorable boy and girl characters.
Rating: 4 stars
About the Author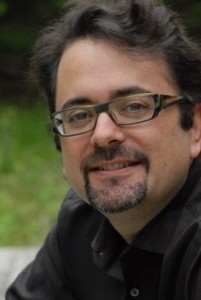 Zackheim's storytelling chops span TV (Nickelodeon), Games (Sony), Books (Shirley Link) and screenplays (Chester Yang, an Austin Heart of Film Festival semi-finalist script). Parents.com and Edward Hemingway have both highly recommended Shirley Link as a great book for Middle Graders.
Find out more about Ben at his website, and connect with him on Twitter and Facebook.
Thanks to TLC for my review copy.

Note: I received a complimentary copy for review purposes. A positive review was not requested or guaranteed; the opinions expressed are my own.