About Cost of Life
On Sale: March 17, 2015
Pages: 274
Published by :

Alibi
For readers of Preston & Child, James Rollins, and Brad Thor comes a gripping new thriller from Joshua Corin, in which an audacious hijacking is just the beginning of a twisted international nightmare.
Happy Independence Day. You're all going to die.
Life can't be better for veteran pilot Larry Walder. He has a great job, a terrific kid, a gorgeous wife—and no inkling that tonight will be the end of the world as he knows it. In the early hours before the Fourth of July, three men break into Larry's home. And as the day lurches on to its terrifying course, a life is taken, and Flight 816 from Atlanta to Cozumel, Mexico, vanishes off the radar.
In the air, Larry must find a way to save his family, his crew, and his passengers. On the ground, disgraced FBI agent Xanadu Marx goes rogue, making it her mission to track down the missing flight before the hijackers reach their diabolical endgame. With the casualties racking up and the world's busiest airport under lockdown, a message arrives: This is no ordinary hijacking, no typical hostage crisis. This ransom is a totally different beast—the first hint of a conspiracy that might bring America to its knees.
Advance praise for Cost of Life

"In Cost of Life, Joshua Corin turns a humdrum airline flight into a ride on an F-15 with a smoking engine—fast, terrifying, and oh so fun. I loved the writing. Corin's whip-smart dialogue crashed me straight into a world of fascinating characters and complicated allegiances. I couldn't stop reading until the wheels touched down on that final tarmac."—Rebecca Cantrell, New York Times bestselling author of The World Beneath
"Fraught with danger and surprises, Cost of Life is a tale chock-full of action, adventure, and intrigue. Treachery comes from all directions, so consider yourself warned."—Steve Berry, New York Timesbestselling author of The Lincoln Myth
"In Cost of Life, Joshua Corin brings us Xanadu Marx, a tough but vulnerable ex–FBI agent who literally pulls no punches. Corin's sure-footed handling of plot, character, and voice is the kind of writing that inspires authors like me to up their game."—Robert Gregory Browne, author of Whisper in the Dark
Review
Life can change in an instant, especially when a madman's involved. Pilot Larry Walder goes to bed a happy man and wakes up a desperate husband and father. To save his family, he must play a madman's game--in the air, no less.
Then, the FBI--and a struggling agent named Xana--get involved. They have very little information to go on. Many lives hang in the balance.
After a quick setup, this story takes off and never lets up. It's an edge-of-your-seat thriller with high emotional stakes. There are lives lost and many desperate moments. Every time I thought I might know where things were heading, the story took a turn. Nobody was safe, and it was terrifying.
Usually these type of books only stimulate our senses, but I found myself emotionally invested in several characters. First and foremost was Xana. There's nothing simple or easily defined about her. She's messed up and doesn't play by the rules. But she's strong, quick, and determined. There was also a flight attendant who captured my heart even though she was only in a small portion of the story.
I was also intrigued by the underlying questions in the conflict. After all, what is the cost of life?
If you love a book packed with action but also appreciate caring about the characters, grab a copy of Cost of Life. It's a quick, exciting, and gut-wrenching read.
Rating: 4.5 stars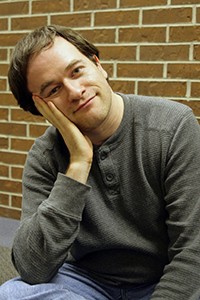 About Joshua Corin
Joshua Corin is the author of Nuclear Winter Wonderland, While Galileo Preys, andBefore Cain Strikes. He holds an M.A. in English and an M.A. in theater from Binghamton University, and currently teaches college in Atlanta, Georgia.
Thanks to TLC for my review copy.

Note: I received a complimentary copy for review purposes. A positive review was not requested or guaranteed; the opinions expressed are my own.