About Last Night at the Blue Angel

Paperback: 352 pages
Publisher: William Morrow Paperbacks (April 14, 2015)

Set against the turbulence of 1960s Chicago--a city in transformation--and its legendary jazz scene, Last Night at the Blue Angel is a lush and immensely heartfelt mother-daughter tale about a talented but troubled singerís relationship with her precocious ten-year-old daughter.

It is the early 1960s, and Chicago is teeming with the tensions of the dayósegregation, sexual experimentation, the Cold War and Vietnamóbut it is also home to some of the countryís most influential jazz. Naomi Hill, a singer at the Blue Angel club, has been poised on the brink of stardom for nearly ten years. But when her big break, the cover of Look magazine, finally arrives, it carries with it an enormous personal cost. Sensual and magnetic, Naomi is a fiercely ambitious yet self-destructive woman whose charms tend to hurt those around her, and no one knows this better than her daughter, Sophia.
As the only child of a single mother growing up in an adult world, Sophia is wise beyond her years, a casualty of her motherís desperate struggle for fame and adoration. Unsettled by her home life, she harbors a terrible fear that her world could disappear at any moment, and compulsively maintains a list of everyday objects she might need to reinvent should nuclear catastrophe strike. Her only constant is the colorful and unconventional family that surrounds her and her mother, particularly the photographer, Jim, who is Sophia's best friend, surrogate father, and protector--but Jim is also deeply in love with Naomi.

Weaving between the perspectives of Sophia and Naomi, Last Night at the Blue Angel is a poignant and unforgettable story about what happens when our passion for the life we want is at sharp odds with the life we have. Part stylish period piece, part heartbreaking family drama, itís a novel rife with revelations, a vivid and propulsive page-turner--and the major debut of an extraordinary new writer.

Amazon | IndieBound | Barnes & Noble
Naomi Hill is ready for the next step, for her singing to push her to stardom. Standing in the wings at a pivotal show, Sophia--Naomi's daughter--realizes everything is about to change. This is where the book starts--at the last night at the Blue Angel, with Naomi teetering on the precipice of her dreams.
Told from both Naomi and Sophia's perspectives, the reader is sent back in time to find out how the women got to this point. Sophia, although young, lives almost exclusively in an adult world. She's often on the outskirts of her mother's life, wishing beyond anything to be pulled in. A dear friend of the family, Jim, is like a father to her.
Naomi's life is a revolving door of love interests, yet love eludes her. Blinded by what she wants, she often can't see what she already has. In the end, she finally achieves the stardom, but not without great personal cost.
Having alternating points and view and hopping back and forth through time can often be the undoing of a story. It's a delicate balance that requires excellent transition and clear voices. Rebecca Rotert really succeeds here, and I was drawn into the story right away.
Sophia is an amazing character. She's stuck in youth, yet propelled into being an adult. She wants more of her mother, yet seems to understand it's not a possible reality. However, Jim was the character who most captured my heart. Like Sophia, he stood in the wings, wanting Naomi's affection and dedication. They both loved this woman who was always just out of their grasp.
Although Chicago and the jazz scene is mentioned in the book summary, I found the story really centered on the emotional journey between what we have and what we want
--and often the heartbreaking conflict this showcases
. Too often it takes a tragedy to show us what's really important. Make sure you have a few Kleenex handy when this heartbreaking event inevitably occurs.
I highly recommend this emotional and captivating story. From page one, I felt invested and hopeful for the characters. This story is proof that it's not always about the ending--since we are presented with that first. It's really about the journey there.
About the Author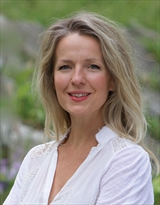 Rebecca Rotert received an M.A. in literature from Hollins College, where she was the recipient of the Academy of American Poets prize. Her writing has appeared in the New York Times and other publications. She's also an experienced singer and songwriter, who has performed with several bands, and a teacher with the Nebraska Writers Collective.

She lives in Omaha, Nebraska. This is her first novel. Find out more about Rebecca at her†website†and follow her on Twitter.
Thanks to TLC for my review copy.

Note: I received a complimentary copy for review purposes. A positive review was not requested or guaranteed; the opinions expressed are my own.