About Come Away with Me
Paperback: 368 pages
Publisher: Mira (August 25, 2015)
A heartbreaking and emotional story of love and loss, COME AWAY WITH ME is one woman's discovery that life is still worth living, even if it's not the life you planned.
One minute, Tegan Lawson has everything she could hope for: an adoring husband, Gabe, and a baby on the way. The next, a patch of black ice causes a devastating accident that will change her life in ways she never could have imagined.
Tegan is consumed by grief—not to mention anger toward Gabe, who was driving on the night of the crash. But just when she thinks she's hit rock bottom, Gabe reminds her of their Jar of Spontaneity, a collection of their dream destinations and experiences, and so begins an adventure of a lifetime.
From the bustling markets of Thailand to the flavors of Italy to the ocean waves in Hawaii, Tegan and Gabe embark on a journey to escape the tragedy and search for forgiveness. But they soon learn that grief follows you no matter how far away you run, and that acceptance comes when you least expect it. Heartbreaking, hopeful and utterly transporting, COME AWAY WITH ME is an unforgettable debut and a luminous celebration of the strength of the human spirit.
"Karma Brown has written a book that will make you feel like you've traveled the world without leaving your seat. COME AWAY WITH ME is full of lush locations, memorable characters, and a turn of events that is nothing short of jaw-dropping. Brown's work is as smart as it is effortless to read."—Taylor Jenkins Reid, author of Forever, Interrupted and After I Do

Review
Tegan Lawson has a beautiful life and so many things to look forward to. But everything changes in an instant, and her hopes and dreams will never be the same. Her husband, Gabe, is driving on the night of a horrific car crash, one that leaves her life in shambles.
Desperately trying to find a reason to keep going, Gabe reminds her about their wish list of travel places. Will getting away bring some closure and light up a new path?
Wow. Have you ever read a book where something happens in the story and you literally have to stop reading and go back through previous pages to see if you missed something? But in a good way.
From the very first page, your heart goes out to Tegan and her loss. She struggles to put her life back together. It's painful and heartbreaking, but you want to keep reading and make sure she'll be okay. To make sure she can find happiness again.
Then, just as you think she's rounding a corner, Bam, another blow. One you never see coming. Of course, I'm not going to provide any spoilers here. It's something you truly have to experience. Can I just say... the twist is brilliant.
And for those who love travel and the allure of new locations, the travel destinations are breathtaking (it reminded me of the journey in Eat, Pray, Love). But for me, it was all about Tegan and her transformation.
It's a beautiful story about survival and what mechanisms we use to get through life's toughest moments. A very touching journey.
Rating: 4.5 stars
About Karma Brown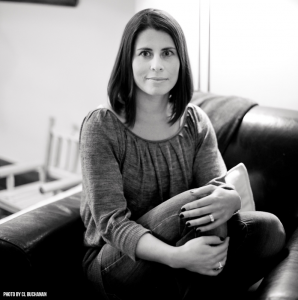 Karma Brown is a National Magazine Award winning freelance writer and journalist, and a member of the Professional Writers Association of Canada. She lives just outside Toronto with her family and writes powerfully emotional upmarket women's fiction, in the vein of Me Before You. COME AWAY WITH ME is her first novel.
Connect with Karma
Website | The Debutante Ball | Twitter | Facebook | Goodreads
Thanks to TLC for my review copy.

Note: I received a complimentary copy for review purposes. A positive review was not requested or guaranteed; the opinions expressed are my own.