About Silver Tongue
Paperback: 274 pages
Publisher: Seventh Star Press, LLC (April 20, 2015)
The Colonies lost the Revolutionary War. Now it's 1839 and the North American continent is divided into three territories: New Britannia, Nueva Espana, and Nouvelle France where seventeen-year-old Claire Poissant lives.
Claire has a magical way with words--literally. But a mystical power of persuasion isn't the only thing that makes her different. Half-French and half-Indian, Claire doesn't feel at home in either world. Maybe that's why she's bonded so tightly with her fellow outcasts and best friends: Phileas, a young man whose towering intellect and sexuality have always made him the target of bullies, and Sam, a descendant of George Washington who shares the disgraced generalís terrible, secret curse.
But when Sam's family is murdered, these bonds are tested and Claire's special ability is strained to its limits as the three hunt the men responsible into dangerous lands. Along the way they cross paths with P.T. Barnum, William Frankenstein and other characters from both history and fantasy as they learn the hard way that man is often the most horrific monster and that growing up sometimes means learning to let go of the things you hold most dear.

Review
Imagine America if the Revolutionary War had failed. If that's not an intriguing enough premise for a book, then add three friends who find themselves in challenging situations... with a paranormal twist and an interesting cast of peripheral characters.
Claire struck me as the most interesting character, both with her Native American background and her keen ability to influence others. It's a power we've all wished for, but don't always realize the after effects.
Sam, a descendant of George Washington--a storyline I found captivating and insanely unique--suffers the horrific loss of his family, barely surviving himself, only to face life with a devastating curse.
Kudos to the author for a vivid imagination--deftly mixing genres in an intricate storyline--and a grand journey with friends who cross paths with interesting characters.
If you enjoy a unique, genre-bending story with both action and character-building, pick up Silver Tongue. I highly recommend it.
Rating: 4 stars
About AshleyRose Sullivan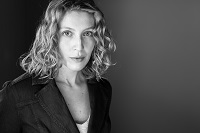 Born and raised in Appalachia, AshleyRose Sullivan now lives, writes, and paints in Los Angeles. She has an MFA in Creative Writing from Spalding University and her first novel, Awesome Jones: A Superhero Fairy Tale is available from Seventh Star Press.
She can be found at her website or her blog, My Year Of Star Trek.
Thanks to TLC for my review copy.

Note: I received a complimentary copy for review purposes. A positive review was not requested or guaranteed; the opinions expressed are my own.