About Texas On My Mind
Series: The McCord Brothers (Book 1)
Mass Market Paperback: 384 pages
Publisher: HQN Books (February 23, 2016)
The McCord Brothers are the most eligible bachelors in Spring Hill, Texas. But these cowboys are about to get wrangled by the love of some very unique women—the kind who can melt hearts and lay it all on the line.
Air force captain Riley McCord has come home on medical leave to find one heck of a welcome reception. Every unattached woman in Spring Hill, Texas, wants to nurse him back to health. That includes his childhood friend Claire Davidson—the only person who understands how damaged he really feels. In high school, she chose his best friend over him.
According to Riley's rules, that should make her off-limits forever. But when Claire suggests a no-strings fling, he can't refuse.
Claire always wanted Riley—but she also craved the safety and stability he couldn't offer. So she chose another path, only to end up crazier about him than ever. She's even convinced herself that this time she won't be devastated when he leaves. Yet once Riley realizes the depth of Claire's feelings—and his own—he'll have to make the ultimate choice: return to the job he loves or stay home for the woman who's always lived in his heart.
"Clear off space on your keeper shelf, Fossen has arrived." –New York Times bestselling author Lori Wilde
"The perfect blend of sexy cowboys, humor and romance will rein you in from the first line." –New York Times bestselling author B.J. Daniels

Review
After an accident, Riley McCord comes home to heal, and there's no shortage of available women lining up to help. Among them is his childhood friend Claire Davidson. He really just wants to be left alone to get back on his feet and to the job he loves. He has no intention of staying or putting down roots.
Many women throw themselves at Riley, and to his credit as a character, he ignores their advances. Instead he finds himself drawn to a woman he's cared about for many years, a woman of substance.
I have to admit, though... it took me about a third of the book to really engage and start caring about the characters. Riley seemed shallow, and Claire came across as indecisive. But once I connected, I wanted them to find their way to each other.
I think part of what held me back from rooting on Riley was his own reluctance (and the bevy of women throwing themselves at him, which made me want more for Claire). A couple of characters fell flat for me, especially Claire's would-be fiance.
But if you like the hot cowboy who drives women crazy, this book's definitely for you.
Rating: 3.5 stars


About Delores Fossen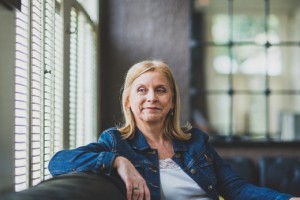 USA Today bestselling author, Delores Fossen, has sold over 70 novels with millions of copies of her books in print worldwide. She's received the Booksellers' Best Award, the Romantic Times Reviewers' Choice Award and was a finalist for the prestigious Rita ®. In addition, she's had nearly a hundred short stories and articles published in national magazines.
Connect with Delores

Note: I received a complimentary copy for review purposes. A positive review was not requested or guaranteed; the opinions expressed are my own.
Please visit other stops on the Texas On My Mind blog tour page.