About Her One and Only
Paperback: 400 pages
Publisher: Bethany House Publishers (May 3, 2016)
Gray Fowler, star NFL tight end, is being pursued by a stalker, so his team hires a protection agency to keep Gray under the watch of a bodyguard at all times. When Gray meets Dru Porter, an agent assigned to him, he's indignant. How can an attractive young female half his size possibly protect him?
But Dru's a former Marine, an expert markswoman, and a black belt. She's also ferociously determined to uncover the identity of Gray's stalker. And she's just as determined to avoid any kind of romantic attachment between herself and the rugged football player with the mysterious past. But the closer they get to finding the stalker, the closer they grow to each other. As the danger rises, can Dru and Gray entrust their hearts–and their lives–to one another?
"Down-to-earth, in-depth characters give the story an authentic feel. Dru, being the youngest Porter, is headstrong and sympathetic, and when she matches wits with Gray, their connection is as electric as their budding romance is sweet. A delightful read."—RT Book Reviews
.

Review
Dru Porter is a former Marine, expert markswoman, and a black belt. As the youngest in a family of all boys, she's always been tough. Now she's assigned to protect a star NFL player.

When she begins to develop feelings for him, she wonders if she can protect him.
Great characters are crucial components to an awesome read, and this story has them in spades. Both Dru and Gray are well developed through alternating points of view. And the romance between them is sweet and complicated--which I love because it's more realistic than most fictional romance situations.
In addition, the mystery of who's stalking and threatening Gray is intriguing, and I appreciated the underlying Christian messages.

Then why a 3.5 rating, you might ask. This story had a bit of an identity crisis. It starts off as a suspenseful romance and becomes a Christian romance. I wish the two elements had been blended better, especially at the beginning.
Still, it doesn't keep this from being a sweet and page-turning read. A great choice for a summer read.
Rating: 3.5 stars
About Becky Wade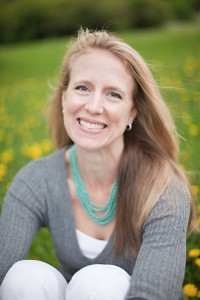 Becky Wade is a native of California who attended Baylor University, met and married a Texan, and moved to Dallas. She published historical romances for the general market, took time off to raise her children, then felt God nudging her to pursue contemporary Christian fiction.
Becky is a Carol Award winner and a finalist for both a RITA and an INSPY Award.
Connect with Becky
Website | Facebook | Twitter

Note: I received a complimentary copy for review purposes. A positive review was not requested or guaranteed; the opinions expressed are my own.
Please visit other stops on Her One and Only blog tour page.