About Lost Kin
Hardcover: 328 pages
Publisher: Yucca Publishing (March 29, 2016)
Occupied Munich, 1946: Irina, a Cossack refugee, confesses to murdering a GI, but American captain Harry Kaspar doesn't buy it. When Harry scours the devastated city for the truth, he finds his long-lost German brother, Max, who returned to Hitler's Germany before the war.
Max has a questionable past, and he needs Harry for the cause that could redeem him: rescuing Irina's stranded clan of Cossacks who have been disowned by the Allies and are now being hunted by Soviet death squads—the cold-blooded upshot of a callous postwar policy.
As a harsh winter brews, the Soviets close in, and the Cold War looms, Harry and Max desperately plan for a risky, last-ditch rescue on a remote stretch of the German-Czech border. A mysterious visitor from Max's darkest days shadows them. Everyone is a suspect, including Harry's lover, Sabine, and Munich detective Hartmut Dietz—both of whom have pledged to help. But before the Kaspar brothers can save the innocent victims of peace, grave secrets and the deep contempt sown during the war threaten to damn them all.

Lost Kin (Yucca Publishing; April 2016; 978-1-63158-081-9) is a stand-alone continuation of Steve Anderson's novel Liberated, featuring the same compelling protagonist, American captain Harry Kaspar. Author Steve Anderson has two bestselling e-books, Double-Edged Sword and Sitting Ducks. With Anderson's background as a Fulbright fellow in Munich, Lost Kin is a historically accurate, page-turning novel set just after World War II that will appeal to war history readers as well as war fiction readers.
Purchase Links
Review
I'm a huge fan of World War II era books, as I'm captivated by the emotional intensity of the period. So many families were torn apart thanks to the cruel tyranny of a madman. However, most of the World War II books I've read have centered on the conflict during the war, not the devastating recovery afterward.
Fate brings Harry to Irina, a refugee, who connects him to his brother, Max. A cat and mouse game begins. So many people are left without a purpose, while others will stop at nothing to thrust hatred in new directions.
There's a delicate balance of describing the time period and story development in any historical novel. Too much background, and the story lags. Too much straight story, and the emotional connection can get lost. At times, I struggled with long sections of info dump when what I really wanted was action. Then, a long thread of intense drama would follow where I couldn't put the book down. I particularly connected to the relationship between the brothers, which was at times poignantly distant and other times entertaining in its bantering.
Still, I felt I was missing something, as if I were dropped into the middle of a story without crucial background. Finally, in the last half of the book, I seemed to find the story's rhythm, and along with it, a strong desire to discover its conclusion. And, although beautifully written, there were several distracting grammatical and punctuation errors, which hopefully were cleaned up prior to publication.
Overall, Lost Kin is an intriguing story set during a fascinating time in our world's history.
Rating: 3.5 stars
About Steve Anderson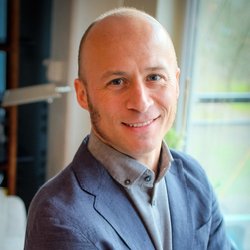 Steve Anderson was a Fulbright fellow in Munich, Germany. His research on the early US occupation in 1945 inspired him to write several novels centered on World War II and its aftermath.
Anderson has a master's in history and has worked in advertising, public relations, and journalism. He lives with his wife, René, in Portland, Oregon.
Connect with Steve
Website | Facebook | Twitter

Note: I received a complimentary copy for review purposes. A positive review was not requested or guaranteed; the opinions expressed are my own.