About Last Chance Rebel
Series: Copper Ridge
Mass Market Paperback: 384 pages
Publisher: HQN Books (August 30, 2016)
The prodigal son of Copper Ridge, Oregon, has finally come home
The man who ruined Rebecca Bear's life just strolled back into it with one heck of an offer. Years ago, Gage West's recklessness left Rebecca scarred inside and out. Now he wants to make amends by gifting her the building that houses her souvenir store. Rebecca won't take Gage's charity, but she's willing to make a deal with the sexy, reclusive cowboy. Yet keeping her enemy close is growing dangerously appealing…
He's the wild West brother, the bad seed of Copper Ridge. That's why Gage needs the absolution Rebecca offers. He just didn't expect to need
her
. After years of regretting his past, he knows where his future lies—with this strong, irresistible woman who could make a black sheep come home to stay…

Review
Rebecca Bear has lived her life in the shadows of the scars from a car accident and hoping she never had to see the man responsible ever again. But then he waltzes back into town, and instead of avoiding her, he seems intent on lessening his guilt.
Two people in need of healing... can they embrace the future and heal the wounds of the past?
I love to read a good love story, but it has to start with caring about the characters and having a build up that makes sense--no instal-love for me. Rebecca and Gage have depth to them, which makes their growing feelings more intriguing. Love isn't easy, and it's definitely not for the two of them, but two damaged people can work through the pain when their hearts are in it. Their love story is reaffirmation of this kind of hope.
Their story stirred many emotions in me, something I wasn't expecting. To say I was pleasantly surprised by this is an understatement.
If you love a good romance with an added emotional attachment to the characters, then pick up a copy of Last Chance Rebel. And there's plenty of steamy scenes, too... just saying.
Rating: 4 stars
About Maisey Yates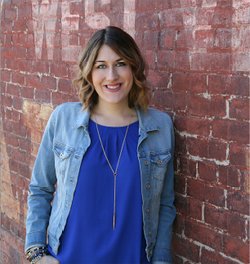 New York Times and USA Today Bestselling author Maisey Yates lives in rural Oregon with her three children and her husband, whose chiseled jaw and arresting features continue to make her swoon. She feels the epic trek she takes several times a day from her office to her coffee maker is a true example of her pioneer spirit.
In 2009, at the age of twenty-three Maisey sold her first book. Since then it's been a whirlwind of sexy alpha males and happily ever afters, and she wouldn't have it any other way. Maisey divides her writing time between dark, passionate category romances set just about everywhere on earth and light sexy contemporary romances set practically in her back yard. She believes that she clearly has the best job in the world.
Connect with Maisey
Website
|
Facebook
|
Twitter

Note: I received a complimentary copy for review purposes. A positive review was not requested or guaranteed; the opinions expressed are my own.