About Something About Sophie
• Paperback:
320 pages
• Publisher: William Morrow Paperbacks
(March 26, 2013)
Clearfield, Virginia, is a sleepy, idyllic hamlet where residents welcome its comfortable, familiar routines. But when a newcomer arrives in town, long-buried secrets threaten to surface and destroy their haven...
Answering a call that summons her to a stranger's deathbed, a reluctant Sophie Shepard is too late to hear what he was so anxious to tell her. What was so important that a dying man would think of her in his final moments? With the help of Dr. Drew McCarren, Sophie begins to dig into her past, setting off a chain of events that chills the quiet town of Clearfield, Virginia, to its roots.
With part of her wanting nothing more than to put Clearfield behind her and run back home, Sophie knows she won't rest until she discovers the truth. But growing closer to the residents also means uncovering their dark secrets—secrets about the woman who gave Sophie up for adoption, the mysterious part these strangers played, and the life she never knew she nearly had.
Something About Sophie is a memorable story about the power of love . . . and the things people will do, both right and wrong, to protect it.
Review
Sophie Shepard's past is a mystery, and the key to solving it dies before she has a chance to speak with him. Before she gives up and leaves town, she decides to follow a few leads. What comes next is a race against secrets and someone willing to kill to keep them buried.
While searching for answers, Sophie shares some intimate moments with Dr. Drew McCarren and feelings start to brew. Too bad their first date ends before it even begins when they find a dead body. More violence ensues, and Sophie is right at the center of it. Will she get answers before something bad happens to her?
Sophie is an interesting main character, possessing a strong sense of self I like in female protagonists. The cast of characters, especially with the backdrop of an intriguing small town, is eclectic and entertaining. Although the story starts off a bit slow, it gears up for a fast-paced ride to a gut-wrenching revelation about Sophie's birth mother.
Maybe because I was caught up in the mystery of Sophie's past, I found the romance lacking. There was so much potential with Sophie and Drew, but it fell flat. Still, if you are looking for a book with a good build-up to a surprising ending, pick this one up. The twists and turns won't disappoint.
Rating: 3 stars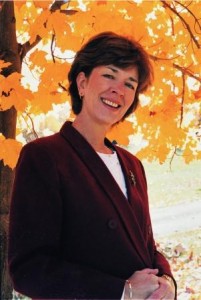 About Mary Kay McComas
Mary Kay McComas started her writing career twenty-five years ago. To date she's written twenty-one short contemporary romances and five novellas; Something About Sophie is her third novel. She was born in Spokane, Washington, and now lives in a small town in the beautiful Shenandoah Valley of Virginia with her husband, three dogs, a cat, and her four children nearby.
Find out more about Mary Kay at her website and connect with her on Facebook.
Thanks to TLC for my review copy.
Note: I received a complimentary copy for review purposes. A positive review was not requested or guaranteed; the opinions expressed are my own.
Please visit other stops on the Something About Sophie blog tour page.