About Duke City Hit
On Sale: December 16, 2014
Pages: 150
Published by :

Alibi
Max Austin takes readers back to Albuquerque for another action-packed thrill ride in Duke City Hit, as an elite assassin takes aim at—well, everyone.
According to Vic Walters, the secret to happiness is low overhead and few demands. Living rent-free in a modest bachelor pad behind his boss's house, he has no debts, no entanglements, and no expensive relationships. He works just a few days a month, but his bank accounts keep growing.
Vic is a high-priced hitman with a legendary record of success. That is, until someone starts eliminating his marks before he can get to them . . . until his manager puts him in the middle of a vicious drug-cartel feud . . . and until a young man walks into his life with a big .45 and a startling revelation.
For Vic Walters, it's time to step out of the shadows. Which means it's killing time in Duke City.

Vic Walters lives life as he wants to and doesn't feel the need to apologize for it. After all, he only answers to himself. As a hit man, it's easier that way. Then, a couple of his hits get weird--someone else seems to be interested in his marks. Suddenly, a young man comes into Vic's life and changes everything.
I love a good thriller as much as the next person, but what really connects me with a read are memorable characters. This book scores on both accounts. Vic Walters appealed to me on many levels. He's tough, sexy, and confident. But then we get to see a whole new side of him, a depth not usually afforded a hit man character, when he gains something in his life he never thought he wanted.
Plus, there's action and suspense. For a few pages, I was worried we'd go from a thriller to a book about relationships, but the author strikes a great balance. So, if you love twists and turns with action, it's there. However, if you like character-driven pieces, you'll also be satisfied.
I highly recommend Duke City Hit. It's a quick read with surprising depth. I look forward to the next book in the series.
Rating: 4.5 stars
If you'd like to see my review of Duke City Split, the first book in this series, you can find it here.
Giveaway
About Max Austin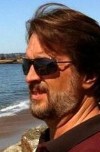 Max Austin is the pseudonym of writer Steve Brewer. He lives in Duke City (Albuquerque), New Mexico.
Thanks to TLC for my review copy.
Note: I received a complimentary copy for review purposes. A positive review was not requested or guaranteed; the opinions expressed are my own.
Please visit other stops on the Duke City Hit blog tour page.