About Officer Elvis
On Sale: February 15, 2014
Pages: 224
Published by :

Alibi
In the vein of Harlan Coben and Lisa Gardner, Gary Gusick takes readers on an explosive ride-along with Mississippi detective Darla Cavannah, a Yankee transplant making her name in the Deep South.
After performing at a local old-folks home, off-duty police officer and part-time Elvis impersonator Tommy Reylander smoothes out his pompadour, climbs into his pink Caddy, and gets all shook up—fatally so, when a bomb explodes. Whether he was killed for his police work or bad singing is a mystery that detective Darla Cavannah is determined to solve.
Though it's been several years since Darla (reluctantly) partnered up with Tommy, she convinces her boss to let her lead the murder investigation. As the new regional director of the Mississippi Bureau of Investigation, Shelby Mitchell can think of better uses for his star detective's time, but not even the most hardened good ole boy can resist Darla's smart, savvy persuasions. She soon embarks on a roller coaster ride through the world of Elvis tribute artists while tracking down one of the most bizarre serial killers in the history of the Magnolia State. Aiding her pursuit of the killer is recently reprimanded officer Rita Gibbons, fresh from the trailer park and described by Shelby as "half a licorice stick short in the manners department." But Rita's plenty smart, even when this case takes their suspicious minds in an entirely unexpected direction.

.

Purchase Links
Review
Darla Cavannaugh sets out to find the killer of Tommy Reylander, a police officer known as Officer Elvis because he is also a part-time Elvis impersonator (or Elvis tribute artist as they prefer to be called). He loses his life after a show one night. At first, the police department is hesitant to jump in the investigation and wonders if it was a one-time unfortunate event, but then other murders start happening. And all the victims are Elvis tribute artists.
Now, Darla is on the hunt for a serial killer. What could possibly bet the motivation to kill Elvis many times over?
When I first read the title of this book, I had no idea what to think. Officer Elvis? It started off a little campy, with Officer Elvis performing for a group of senior citizens. But, when the murders started happening, it became a captivating mystery. Best part... the characters are eccentric and memorable. There are no one-dimensional characters here.
I love seeing a woman leading investigations and being sharp and not easily intimidated, so Darla was a joy to read. Even better, her partner is a lady who's trying to make a comeback after some misfortune. Even though there's a lot of wit and charm to the characters, there are some intense and emotional murders made all that more interesting by getting occasional chapters from the murderer's point of view.
What could have been a hokey Elvis story, ends up being a murder mystery full of twists and turns and loaded with characters you won't forget. All in all, a fast read that will keep your attention, engage your emotions, and keep you guessing.
Rating: 4 stars
About Gary M. Gusick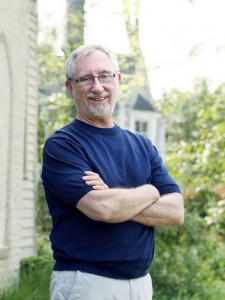 Gary Gusick is the author of The Last Clinic. A former advertising executive with more than thirty years experience as a copywriter and creative director, Gusick has won numerous national and international awards for creative excellence in advertising.
Thanks to TLC for my review copy.

Note: I received a complimentary copy for review purposes. A positive review was not requested or guaranteed; the opinions expressed are my own.