About To Ride a White Horse
• Paperback: 374 pages
• Publisher: Aine Press (January 3, 2015)
"A sweeping historical love story that hits all the marks." – Publishers Weekly (starred review)
Ireland 1846. The potato crop has failed for the second year in a row and Ireland is in famine. When Kathleen Deacey's fiancé doesn't return from a summer working in the Newfoundland fisheries, she faces a devastating choice—leave Ireland to find work or risk dying there. Despising the English for refusing to help Ireland, she crosses the Atlantic, determined to save her family and find her fiancé.
But her journey doesn't go as planned and she ends up in America, forced to accept the help of an English whaling captain, Jack Montgomery, to survive. As Jack helps her search for her fiancé and fight to save her family and country, she must confront her own prejudices and make another devastating choice—remain loyal to her country or follow her heart.
A love story inspired by actual events, To Ride a White Horse is a historical saga of hope, loyalty, the strength of the human spirit, and the power of love.
Praise for To Ride a White Horse

Publishers Weekly starred review: "A sweeping historical love story that hits all the marks … Pacing the plot for maximum tension, Ford skillfully conveys the anguish and fury of not only her heroine, but all the struggling Irish both at home and abroad. She delivers genuine heat by teasing out the passion between her protagonists. Ford has made a deeply satisfying foray into new territory."

Goodreads First Reads Giveaway winner: "Overwhelming! Six stars! What a stunning story! Pamela Ford's book To Ride a White Horse made me go through a series of intense emotions, I cried, hoped, laughed! It's a breathtaking story of love, hope and courage! I have just discovered a little gem!"

Top 500 Amazon Reviewer, Vine Voice: "(4.5 stars) Good as this book is as a romance, it's even better as a historical novel. This is a touching story. Realistic, with some very gritty, some very poignant moments… This is an unexpectedly good novel."

Purchase Links
Review
It's 1846, and Ireland is suffering from a second potato crop failure. People are starving, and many have left. England has made their stance on helping Ireland clear--help is not coming--and times are desperate. When Kathleen Deacey's fiancé goes missing, she's forced to consider tough options. She heads out to the sea, hoping to find her fiancé and a better life.
Fate intervenes. Although lucky to be alive, she finds herself on Captain Jack Montgomery's ship and on a very different course than she planned. Along the way, her heart also takes a different direction.
I have a soft heart for strong, determined, and flawed female main characters. Kathleen fits that description to a tee. She pushes past her fears to try and find a better life and be true to her family and those she loves. She's a fighter. But she's also stubborn and slow to change, even when it's best for her.
Captain Jack Montgomery is a good man, even if he's gruff and equally stubborn. Once in America, Kathleen discovers the Irish are not respected there and faces even tougher conditions and racism. But she never gives up, no matter how many new obstacles appear on her journey.
Oh, and did I mention there's a sweet romance that grows between them? It's organic--not happening overnight or through a quick passion that then leads to love. Even though they are both struggling against their own notions of life, they are drawn to each other every step of the way. It's endearing.
I highly recommend this book to people who enjoy a historical romance with a sweet romance. It's a quick read that pulls you in from the first page and never loses momentum. A perfect summer read.
Rating: 5 stars
About Pamela Ford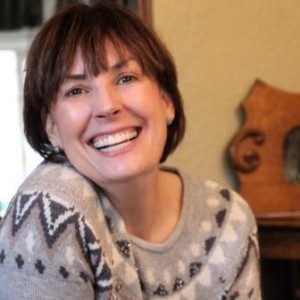 Pamela Ford is the award-winning author of contemporary and historical romance. She grew up watching old movies, blissfully sighing over the romance; and reading sci-fi and adventure novels, vicariously living the action. The combination probably explains why the books she writes are romantic, happily-ever-afters with plenty of fast-paced plot.
After graduating from college with a degree in Advertising, Pam merrily set off to earn a living, searching for that perfect career as she became a graphic designer, print buyer, waitress, pantyhose sales rep, public relations specialist, copywriter, freelance writer – and finally author. Pam has won numerous awards including the Booksellers Best and the Laurel Wreath, and is a two-time Golden Heart Finalist. She lives in Wisconsin with her husband and children.
Find out more about Pamela at her website, and connect with her on Facebook and Twitter.
Thanks to TLC for my review copy.

Note: I received a complimentary copy for review purposes. A positive review was not requested or guaranteed; the opinions expressed are my own.