About North of Here
Hardcover
Publisher: Lake Union Publishing (March 1, 2016)
Many may dream of a simpler life in the north woods, far away from the complications of the modern world. But in her absorbing and uncompromising second novel, North of Here (Lake Union; March 1, 2016), Laurel Saville reveals the dark side of such a life for four young people living in the Adirondack Mountains. This story of misguided decisions, a dangerous back-to-nature cult, and the universal search for meaning and love intertwines these troubled lives into a riveting blend of penetrating love story and persuasive page-turner. Saville, author of the #1 Kindle bestseller Henry and Rachel, once again taps her astute narrative powers in a tale of tragedy, survival, and love.
At the heart of the drama are four unforgettable, strikingly-drawn characters:
Miranda: A young "heiress" who discovers that the mountain property she has inherited is encumbered by her father's debts and misdealing.
Dix: A self-assured "mountain man" who is really an educated, financially secure son of two accomplished professionals.
Darius: A preppy trust fund refugee who turns his own quest for meaning into a dangerous back-to-nature cult bent on healing lost souls
Sally: A brassy, street-smart social worker who, despite being perpetually unlucky in love, ultimately has the foresight to see the perils of loving Darius.
As this masterful novel unfolds, these four will become inextricably entwined in troubles that far exceed simple crimes of the heart.
.

Review
The story starts with Miranda and her deteriorating family life. Tragedy after tragedy strikes her family, leaving her in a fragile state. She struggles to find her value. All of this adds up to a very vulnerable young woman being taken advantage of by a very disturbed man.
If you've ever wondered how a cult gains any footing, this story will show you just how easy it is to prey on those who are suffering and afraid. It's an intimate look into insecurity and a desperate need to find something, anything, to hold onto.
Because of the theme, the story is often difficult to read. As the reader, you want to shake some sense into some people and pull others into a healing embrace. By the end, I felt raw and exposed, desperately in need of something happy.
I commend the author on tackling such a difficult subject and creating an emotion-filled story. Unfortunately, I struggled through some of the characters and situations. I also felt the changing point of views disrupted the story, especially since I had one character I cared about more than the others (Miranda).
As far as rating this book, I went back and forth. Part of me appreciated the raw intensity of it, but another part felt disconnected, possibly because of the pain involved in the story. Since I received an uncorrected proof, I will hope some of the awkward phrasing, pronoun confusion, and flow was fixed in the final edit.
If you appreciate a gut-wrenching and emotional journey, North of Here will give you plenty to ponder.
Rating: 3.5 stars
About Laurel Saville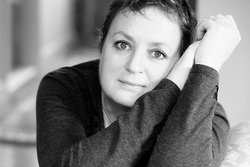 Laurel Saville is the award-winning author of the memoir Unraveling Anne, the novel Henry and Rachel, and the four-part short story "How Much Living Can You Buy," as well as numerous essays, short stories, and articles.
She has an MFA in Creative Writing and Literature from the Writing Seminars at Bennington College. Once again, Laurel Saville applies her "poetic, lyrical voice" (Booklist) to a story that captures the complications of the lives we live—or wish to live.

Note: I received a complimentary copy for review purposes. A positive review was not requested or guaranteed; the opinions expressed are my own.
Please visit other stops on the North of Here blog tour page.