About When I'm Gone
Hardcover
Publisher: Lake Union Publishing (March 15, 2016)
Dear Luke,
First let me say—I love you…I didn't want to leave you…
Luke Richardson has returned home after burying Natalie, his beloved wife of sixteen years, ready to face the hard job of raising their three children alone. But there's something he's not prepared for—a blue envelope with his name scrawled across the front in Natalie's handwriting, waiting for him on the floor of their suburban Michigan home.
The letter inside, written on the first day of Natalie's cancer treatment a year ago, turns out to be the first of many. Luke is convinced they're genuine, but who is delivering them? As his obsession with the letters grows, Luke uncovers long-buried secrets that make him question everything he knew about his wife and their family. But the revelations also point the way toward a future where love goes on—in written words, in memories, and in the promises it's never too late to keep.
.

Purchase Links
Review
Luke has barely walked away from his wife's funeral when he begins receiving letters from her. Through the course of a continuing post-death correspondence, he gets an inner look at his wife's feelings about her declining health and the secrets she kept from him.
What started as a poignant portrayal of life after extreme loss became a mystery about buried secrets. Personally, I found this transition a bit jarring. Swept up in the initial emotions, transitioning to a mystery was a slow adjustment for me.
However, I will say that I couldn't put the book down, completely intrigued with finding out these characters' backgrounds. And the journey was worth it.
For potential readers, I'd say this... it might feel as first as if you are reading two different stories. But don't give up. Investing your time into these memorable characters will be worth it in the end.
Rating: 3.5 stars
About Emily Bleeker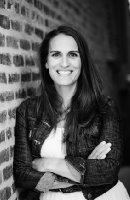 Emily Bleeker is a former educator who discovered her passion for writing after introducing a writer's workshop to her students. She soon found a whole world of characters and stories living inside of her mind. It took a battle with a rare form of cancer to give her the courage to share that amazing world with others.
Emily lives in suburban Chicago with her husband and four kids. Between writing and being a mom, she attempts to learn guitar, sings along to the radio (loudly), and embraces her newfound addiction to running. Connect with her or request a Skype visit with your book club at emilybleeker.wordpress.com.
Connect with Emily Website | Facebook | Twitter

Note: I received a complimentary copy for review purposes. A positive review was not requested or guaranteed; the opinions expressed are my own.
Please visit other stops on the When I'm Gone blog tour page.